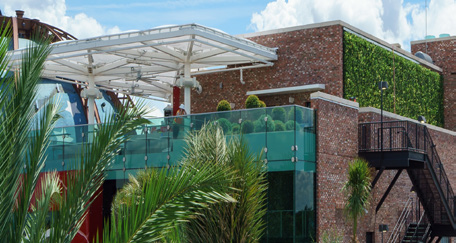 Coca Cola Store: Orlando, FL
Project Team: Baker Barrios Architects, DPR Construction, Birdair Inc.
Owner: Coca-Cola
Services: Concept Design, Optimization Analysis, Structural Design, ETFE - Detailed Design & Engineering, Steel - Detailed Design & Engineering, Fabrication Planning
Materials + Systems: Steel structure, fritted EFTE cushions
Photos by WDW Magic
The project consisted of the design of a canopy for Coca-Cola Store's Rooftop Beverage Bar. In the land of hurricanes, this challenge couldn't be taken lightly. The purpose of this light structure is to protect the rooftop terrace with a 4300 square foot transparent canopy, consisting of 6 square-shaped umbrellas made up of ETFE cushions which are supported by a steel structure.